The 69th anniversary of the D-Day landing is celebrated in Sainte Mère Eglise
Each year, the tourism office of Sainte-Mère-Église organise many activities, parades and shows in memory of the 6th June 1944 landing in Normandy, which liberated France.
Relive D-Day in Cotentin Bay from June 5 to 9, 2013
Commemorate and revive liberation to better understand our history, imagine what the men and women who lived this historic moment could feel, this is the vocation of the D day festival.
To celebrate the victory of the Allied forces, a complete program has been put in place: it all begins in Utah Beach with the parachuting of men in period dress from a C47, followed by a Jazz concert evening from the 1940s. At night fallen a spectacle of pyrotechnics will rise in the sky.
So over the days will follow multiple animations: the new documentary film "In their footsteps" for the 10th anniversary of the Juno Beach Center, an open air cinema will set up in Arromanches, the liberation ball will make you swing on the 7th June. It's a concert and a popular ball with orchestra: a real scent of freedom on tunes that everyone still hums.
The D day festival is also the reconstruction of a great exodus with a parade of vintage bikes in Carentan, but above all the very popular parade of military vehicles. Passionate about the Military Vehicle Conservation Group, you will discover the most beautiful pieces of their collection: Jeeps, Dodges, GMC and many others will be there, not to mention tanks, Diamonds or Wreckers. Reenactments of military camps, jeep tours, exhibitions, picnics, historic marches in the footsteps of the liberators…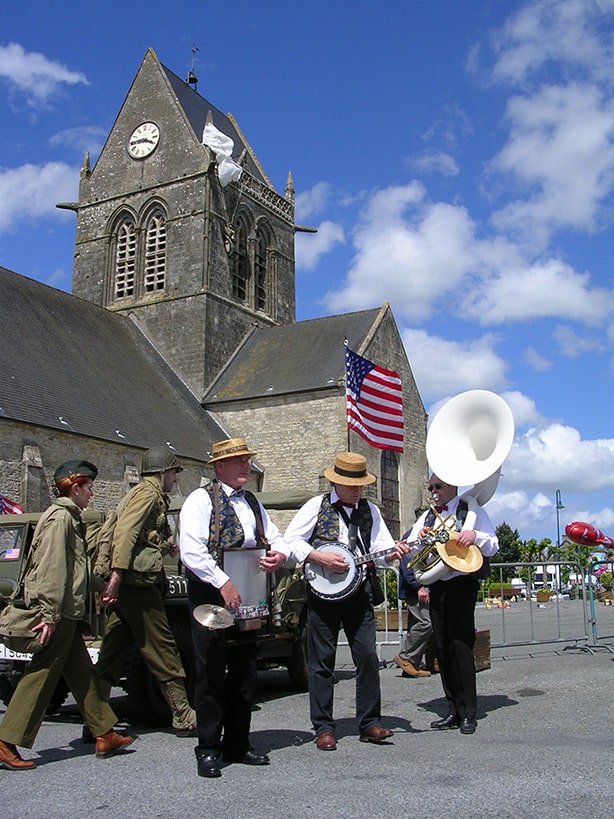 Photo credit: M.Florentin
To bring the evening to a wonderful close, every year the famous parachuting of Sainte-Mère-Eglise takes place with the participation of 250 British, German, Dutch and French military paratroopers dropped by planes.
To take advantage of this international event, stay as close as possible to the landing beaches and commemorative museums by reserving at Le Cormoran campsite, just 20 meters from the sea, the ideal place to celebrate D Day. By booking one of our mobile homes or one of our pitches, you are located 9 km from Utah Beach and 9 km from Sainte-Mère-Église. You will therefore be immersed in the heart of the festivities. Remember to book well in advance to be sure of obtaining accommodation in our establishment because this period is often full very quickly.