The D-Day Festival 2016 celebrates the 72 years of the Normandy landings
For this 10th edition of the Normandy D-Day Festival, the 8 tourist offices of the landing beaches have put together a full program of festive events! Over 120 festive events are held from May 28 to June 12, 2016 to celebrate the regained freedom from Utah Beach to Sword Beach. On the program: air show, parachuting, parades, concerts, re-enactments, giant picnic …
Discover the highlights of the D-Day Festival Normandy 2016
Isigny swing festival 2016
From 3 to 5 June 2016 – Isigny sur Mer
Concerts, dance and entertainment around swing and vintage culture. A large picnic is organized on Sunday noon in the park of the Town Hall.
Carentan celebrates liberty
4 June 2016 – Carentan
Departure from the Carentan Liberty March at 8:30 am, then the hike "Bataille de Carentan" at 1:00 pm. In the afternoon, concert of "The Hoppers" (1940s swing and American music), with parade of military and civilian vehicles and reconstruction of an exodus. The day ends with the Liberation Ball in the village hall.
Sainte-Mère-Eglise celebrates liberty
4 June 2016 – Sainte-Mère-Eglise
Normandy Day picnic in the church square. At 12.15 p.m., the 300 cyclists of the "Voie de la Liberté" race will stop at Terminal 0.
From 1 p.m. the concerts are linked with "the Night's Cats" (group Rock'n'Roll and Rockabilly) and the American brass bands.
The covered market for the "Freedom Banquet" will be set up in the presence of veterans and military paratroopers who will ensure the big parachute on Sunday. From 8:30 p.m. to 11 p.m., music concerts from the 1940s (swing, jazz).
To end the day, fireworks will be launched at 11:30 p.m. at church square.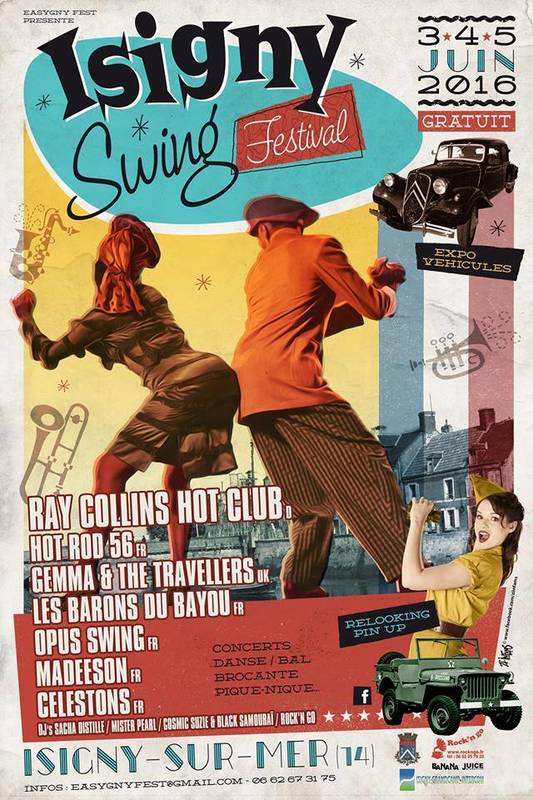 Reconstitution of the American military camp "Géronimo"
From 01 to 08 June 2016 – Sainte-Mère-Eglise
Staging of American airborne troops in Normandy. Several workshops and activities will be offered on the camp: field hospital, combat station, equipment for paratroopers and pathfinders, presentation of an American reconnaissance plane, demonstration of the battery setting of 3 105 mm guns.
Dday airdrop
5 June 2016 – Sainte-Mère-Eglise/Picauville/Amfreville
Military parachuting, then historic parachuting by Liberty Jump Team and Round Canopy Parachuting Team, followed by a ceremony at the Iron Mike monument.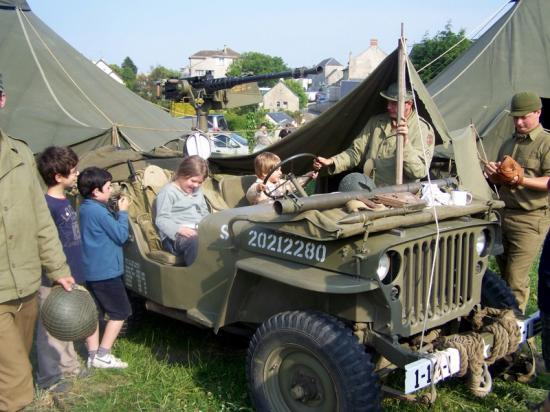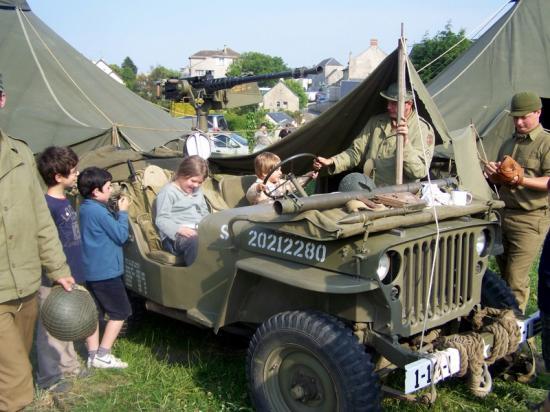 Walk of the heros
5 June 2016 – Merville-Franceville-Plage
Historic hike with the France 44 re-enactment group, in the footsteps of the heroes of 1944, from the Varreville parachuting zone to the municipality of Amfreville via the Merville battery. Scenes, explanations of history with uniforms.
Further information
Check full programme on www.ddayfestival.com