Boost your camping holidays with our summer entertainments in Normandy
You will go back home with wonderful memories of your stay from Le Cormoran thanks to our many entertaining and original activities for all the family. Our team of entertainers takes care of everything to make you live unique moments in Normandy.
In high season, move at the rhythm of the campsite entertainments
To relax and enjoy, that is all you will have to do in our 5-star campsite. Our entertainers, performers, comedians and musicians are ready to share with you good moments in family or between friends. An activity for each, happiness for all!
You will receive the entertainment schedule of the week upon your arrival at the reception. You can also check it on the board at the entrance of the campsite. It will indicate you what are the activities of the week as well as where they take place and at what time. Some activities, limited in number of participants, require preliminaries registration. Therefore, to be sure you don't miss anything, if one of our activities interests you, do not hesitate to announce it quickly at the reception.
Kids' club
Our entertainer will offer your young ones, from 4 to 10 years old, early-learning and fun activities. Your children will make new friends, let their imagination run wild during the creative workshops or test their skills during sports sessions. This year, Koh Lanta activity is the must! What team will win the final victory, red or yellow?
Board games

Creative workshop
Water sport
Supervised by our monitor, learn how to do kayak at sea. You will follow the coast of Ravenoville by taking advantage of a picturesque view on its small colored cabins. Go for a relaxing stroll on the sea, balancing on your paddle board. Our monitor will introduce you the pleasure of the glide. Test sea-walking just in front the campsite. This aquatic hike is an healthy and accessible sport. You go along the coast, immersed until the size or the breast.
Settled at the bottom of the pool, our aquabikes offer you a new physical experience. Sessions with these exercising bikes test your heart abilities while reinforcing your muscles.
Zumba is a good compromise between dance and fitness. It makes your body work with moves you can easily repeat. Every morning, our staff will be waiting for you at the swimming pool for a session of musical aquatic wake-up. Something you have to try : go for a nice horse ride on the beach of Ravenoville, the riding school is next to the campsite.
From 9 to 99
Go back with home-made souvenirs from Normandy after participating in our Bricol'Art workshops (bracelet creation, initiation to knots) and our riddles and brain-twisting games (quizz, lotto, life-size cluedo, mime games, charades…).
Samba percussions introduction
From July to August, sport tournaments take place at the campsite : tennis, table tennis, football (soccer), basketball and home ball.
Several musical activities are waiting for you : move your body along with brasilian music from the Rio Carnival by joining the Samba sessions. Children and grown-ups will be invited to discover the art of Batucada percussions. Let our Country dance teacher show you the art of the famous Cowboy dance moves.
Children only
Walk on water is now possible! Your children and teenagers will love Aqua bubbles : get in the bubble and have fun trying to stand up still. Fun times guaranteed! Our entertainers also organise water games in the indoor and outdoor pools: dodgeball, waterpolo … Trampolines, playgrounds and inflatable games are also free to play for your kids since the opening of the campsite.
Events and shows
We put on a show every week on the campsite. Performers will go on stage to cast a spell on your kids with magic shows, clown shows and circus shows. The bar is the place to be to see live performances from talented musicians. Those live concerts happen between 8:30 p.m. and 11 p.m.
Put on your own show ! Learn the Summer dance : the official choreography of the campsite. Let us hear your voices by joining the karaoke nights. We also organize dance nights and shows for the children. During the week, paella nights, crêpes parties or ice cream nights are here to light up the campsite bar.
Wellness and relaxation
Enjoy every minute of your time with us, relax and get an appointment with our beautician. You will have a nice, relaxing time, thanks to our large selection of body treatments and skincare : body massage, skin exfoliation, manucure and moisturising care. If you need a haircut, a colour or a blow-dry, our hairdresser is at your service. To perfect your relaxation, enjoy our yoga sessions : release mental and physical tension.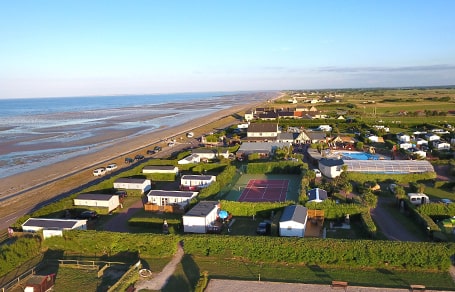 The campsite
Learn more about our family friendly campsite near the sea located in a peaceful natural setting.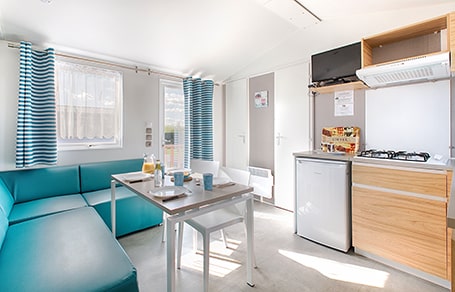 Accommodation
Find the accommodation that suit you best for your stay near the English Channel: rental or camping pitches ?