Celebration of the 70th anniversary of Normandy landing
This year we are celebrating the 70th anniversary of the Normandy landings and the Battle of Normandy which liberated France and then Europe. An anniversary full of emotions as it would probably be the last decennial with the presence of real witnesses of this historic event.
Great heads of state and hundreds of thousands of visitors from around the world will gather to commemorate the Allied victory. Many festivities in addition to official commemorations will allow you to discover or rediscover the sites and museums that maintain the memory of those who gave their lives to bring peace and freedom.
Events in Normandy to celebrate 6 of June 1944
Around June 6, 2014, many festivities will take place near Le Cormoran campsite: exhibitions, re-enactments of military camps, official ceremonies, concerts, parachuting, sound and light shows, etc.
In the Cotentin's bay, cities of Sainte-Mère-Eglise and Carentan will welcome these events but also smaller towns like Saint-Martin-de-Varreville, Catz or Picauville.
To read the detailed programme, visit the official website of the tourist office of Sainte-Mère-Eglise which is updated regularly.
An explanatory booklet has been published by the Cotentin Tourist Office to explain to those who wish to dress in the fashion of the 1940s. You will thus experience a real immersion in the Second World War and after-war period. Everything is detailed, the outfit, the makeup, the hairstyle and even explanations for the outfit of the children. So you will be able to take part in the flash mob dance organized in Carentan in period attire. You just have to learn the steps!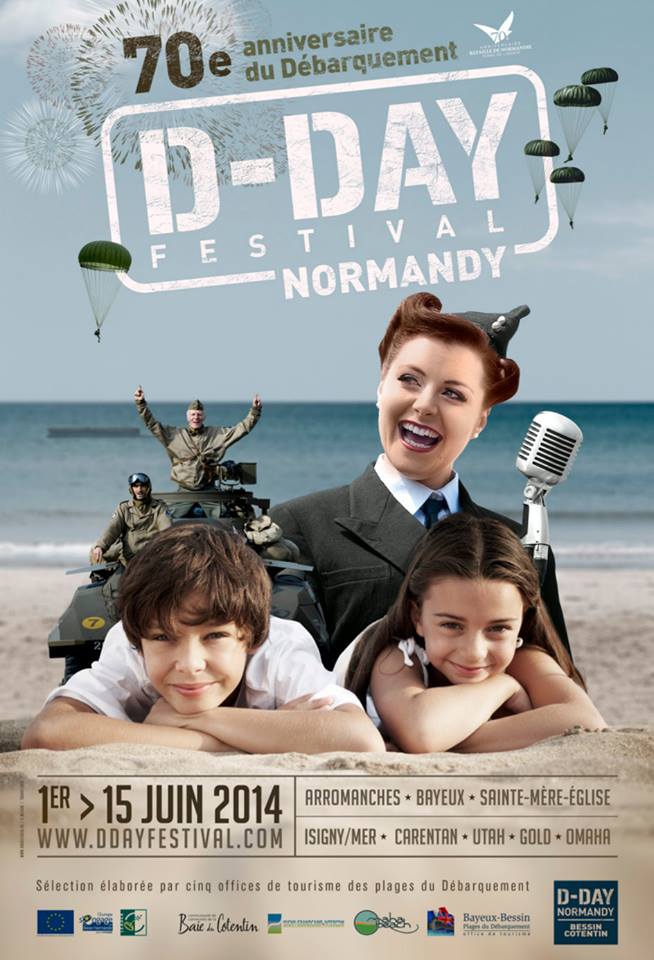 « Overlord Normandy 1944 » the new documentary
Director Pascal Vuong of the company N3D Land Productions produced "Overlord Normandy 1944" a documentary show of 40 minutes on the Landing. Designed with the Imax 3D technique, it is intended to be projected on June 6, 2014 on the largest screens around the world. In France, the film is visible at the Géode in Paris (from April 2) and probably shown at the Zénith de Caen and the Cité de la Mer in Cherbourg.
This documentary not only addresses the vast military operation of D-Day but also shows the civilians who have suffered during the fighting. It does not stop at the landing but also transcribes the advance of the Allied forces in the Norman campaign.