A chalet nature in Normandy for a relaxed stay
The wood-look exterior of our Nature chalets immerses you in a warm  atmosphere !
Situated in a quiet area of our campsite with a private car park, you are at 20 meters from the sea in the French countryside and at only 9 kilometers from Sainte-Mère-Eglise, must-see village of the D-Day landings.
Discover our chalet in Normandy with car park near the rental
Disconnect from the daily life during your holidays in our 5-star campsite by staying in our country chalets. You enter by a  glass door in the big living area. You will find there a fully-equipped kitchen with a nice bar and a living-room with a sofa bed.
Benefiting from a nice view on the Norman countryside, our chalet Nature can welcome up to 5 people and features a Wi-Fi internet connection (ticket on sale at the reception). Enjoy a relaxing stay in this particularily charming rental situated a few meters away from the beach.
This accommodation has also a bathroom with shower, separate toilet, tree bedrooms as well as a covered terrace with garden, allowing you to take advantage of your meals outside. Your faithful pet will enjoy the dedicated path for walking dogs just a step away from the chalet.
This year, instead of holidays in caravan, rent one of our chalets and enjoy a comfortable stay by the sea !
Bedrooms (Blankets and pillows included)
1 bedroom with 1 double bed of 160 cm
1 bedroom with 2 single beds of 80 cm   1 bedroom with 1 single bed of 80 cm
1 additional sleeping thanks to the sofa which can be transformed in a bed

Equipped kitchen
Gas plates, coffee maker, microwave, pans, dishes and necessary crockery to prepare and enjoy your meals.

A living-room with sofa and chairs around the coffee table, TV.

Bathroom with shower, washbasin

Separate toilet
Terrace with private garden

Garden furniture with umbrella
1 vehicle allowed on the pitch

Remember to take your sheets and hand towels ! Not included in the price but available in optional service with supplement.
Ready to share good times at our campsite in the heart of a relaxing place with wonderful sea landscapes.
A stay in Normandy countryside looking successful.
Have a stay in the countryside, in our region of Lower-Normandy, comfortably installed in our chalet, with many summer activities for your children in July and August. A Kids club welcomes young children from 4 to 10 years for creative and sport games. Participate in the activities organized by our entertainment team: aquatic musical awakening, cardio biking, soccer, petanque and Molki tournaments, Frisbee, competition of sand castles and table tennis…. Develop your creativity thanks to our thematic workshops accessible for everyone. Concerts, shows, karaoke and bingo will make your evenings funnier !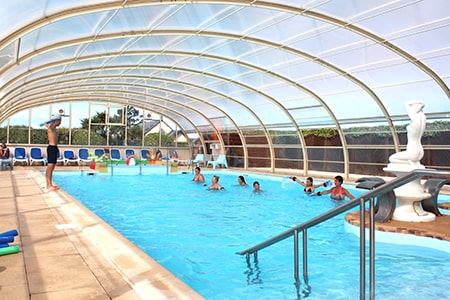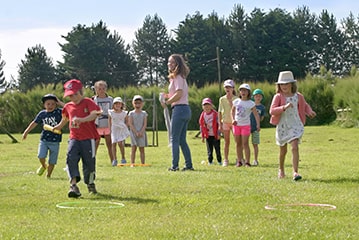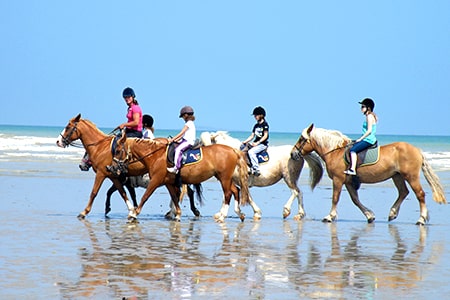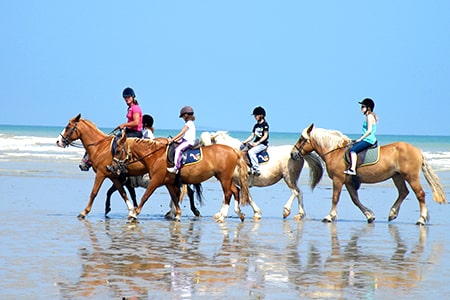 The campsite has private car park, petanque fields, a billiard-golf, a playground and a park with goats. Trampolines, inflatable games, karting with pedals, rope climbing structure and tyrolean, children will have a lot of possibilities to have fun.
During your stay in our rental equipped with private garden and parking, you will appreciate the covered heated pool, opened from the opening of the campsite. Discover also all the 5-star services in our water park : bubbles bath, outside warmed swimming pool, playful paddling pools and sauna.
In the evening, we suggest you take away home-made pizzas ! You can also order French fries to go with your meats, roasted on one of the numerous barbecues at your disposal on the campsite.
Book your holidays in a chalet with 3 bedrooms at Le Cormoran campsite
Choose unforgettable holidays in Normandy in our 5-star campsite by opting for our comfortable chalet. To take the most advantage of your stay, all of our rentals have terraces with garden furniture. You can book our accommodation from the opening of the season (at the beginning of April), to the closure of the campsite (at the end of September).
In low-season, you can book this accommodation from 2 nights minimum. The day of arrival is free.
The reservation is a week minimum in high season and the days of arrival are Friday and Saturday.
Le Cormoran promises you successful holiday in the Cotentin thanks to its many equipments and services on site.
Visits and experiences to live in Lower-Normandy and its surroundings
With its varied landscapes, Normandy is a land with a very rich historical and cultural heritage. Vestiges of Roman cultures (Valognes) and Vikings (Barfleur), the Middle Ages, the Renaissance and much more ! Go to explore these places you will love.
Bayeux
Bayeux Tapestry, embroidery from the 11th century, 70 meters long, testimony of the France History which retraces the conquest of England by William the Conqueror.
Ouistreham
Museum of the Big Bunker, the vestige of the Atlantic Wall, old firing point which goal was to watch the navigation in the Bay of La Seine.
Norman Switzerland
Landscapes of wonderful cliff, many sports activities: hiking, canoe, rock climbing …
Cherbourg
Visit of the City of the sea, museum on marine life and exploration of the oceans. Visit of a real submarine, an exhibition on the Titanic, attraction "We walked under the sea", Abyssal aquarium (the deepest water column of Europe).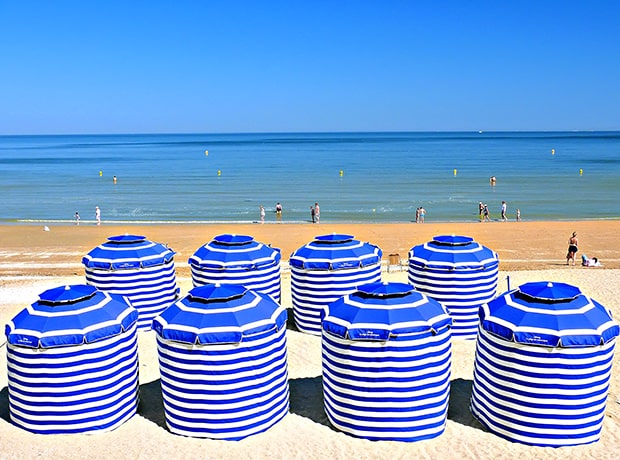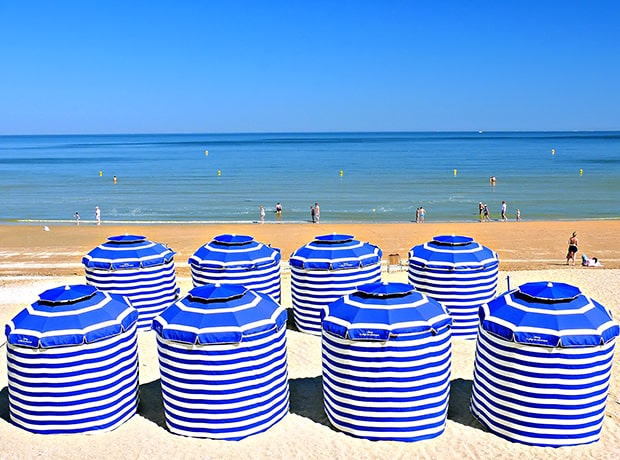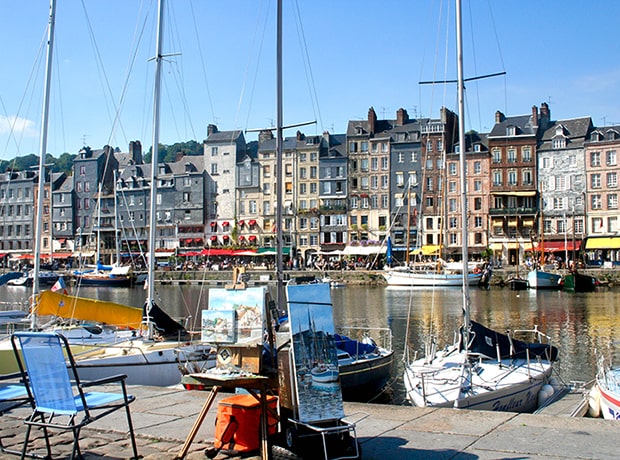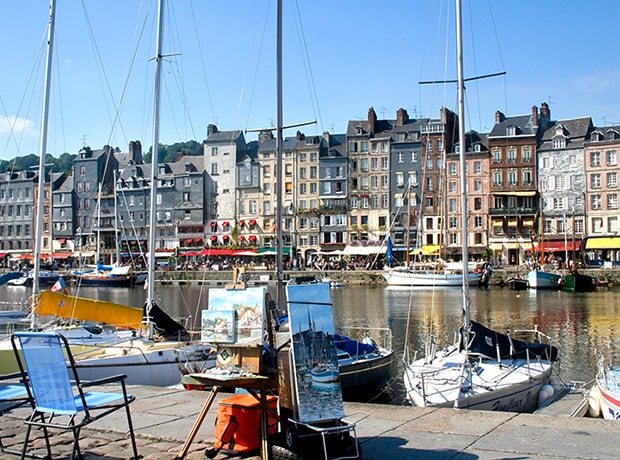 Mont Saint Michel
Visit of the bay, the abbey and the museums on the Mount.
Deauville
Guided tour of the villa Strassburger in Deauville. Half-timbered house from the beginning of the 20th century built originally for Henri de Rothschild, in neo-Norman style of architecture.
Cabourg
Exceptional architecture of the Belle Epoque. These seaside villas built by rich bourgeoisie are the first holiday homes of the 20th century
Utah Beach, Omaha Beach, Sword Beach …
D-Day landing beaches are a must-see commemorative site. Memorials, museums and guided tours help you understand the strategic stakes and the impressive logistic of this big military operation.
Rouen
Cathedral Notre-Dame-de-l'Assomption of Rouen, Gothic architecture which the first stones are the high Middle Ages old.
Honfleur
At the beginning of the 19th century, the painters go out of their workshop and begin to paint outdoor looking for the beauty of the natural light. This is how Normandy became the cradle of the impressionism. Artists painted the cities' colors of the region such as Honfleur. This last one became an exceptional cultural center and kept many art galleries and artist workshops to visit.
Giverny
Located at 1h30 of Paris, visit Claude Monet's house in Giverny, its water garden and its flowers will immerse you in his paintings.
Soak up the culinary culture: fishes, seafoods and shellfishes from the coastline cities, milk, cream, butter and cheeses (camembert, livarot…) of Lower Normandy, apple in all its states (juice, cider, calvados, compote, tart …), caramels, biscuits… everything to satisfy all the gourmands!
To get other ideas of outing, you will find a touristic information point inside the campsite. We are also at your disposal at the reception to advise you the visit which suits you best.
Discover our numerous rental offers
From 2 to 6 people, rent a mobile home for your holidays in Normandy. Test our Wild West Wagon to have an unusual stay in Manche.
If you travel in caravan, tent or camper home and look for a campsite pitch for your stay, we have different services according to your needs. Learn more about them in the "Pitches" section.