Campsite Sainte Mère Eglise
Go on holiday in Sainte-Mère-Eglise and spend a successful stay with your loved ones in our seaside campsite. Located in Ravenoville in the community of communes of Sainte-Mère-Eglise, our campsite is located right in front of the sandy beach of Utah Beach.
Discover Sainte-Mère-Eglise

During your camping stay in Sainte-Mère-Eglise, we invite you to discover this city whose history has been particularly marked by the landing and the World War II. From its city centre, you can admire the model representing the American paratrooper John Steele who hung on the church tower the day the parachutists of the 82nd and 101st Airborne landed around Sainte-Mère-Eglise.
At Sainte-Mère-Eglise, you can learn more about the World War II. We recommend you to visit the Airborne Museum, a reference museum on this subject and specialized on American paratroopers of the 82nd and 101st Airborne.
Beyond the Airborne Museum, other activities are possible for your stay in the Manche. For example, you will enjoy visiting the city's many shops that offer real antiques or souvenirs associated with World War II.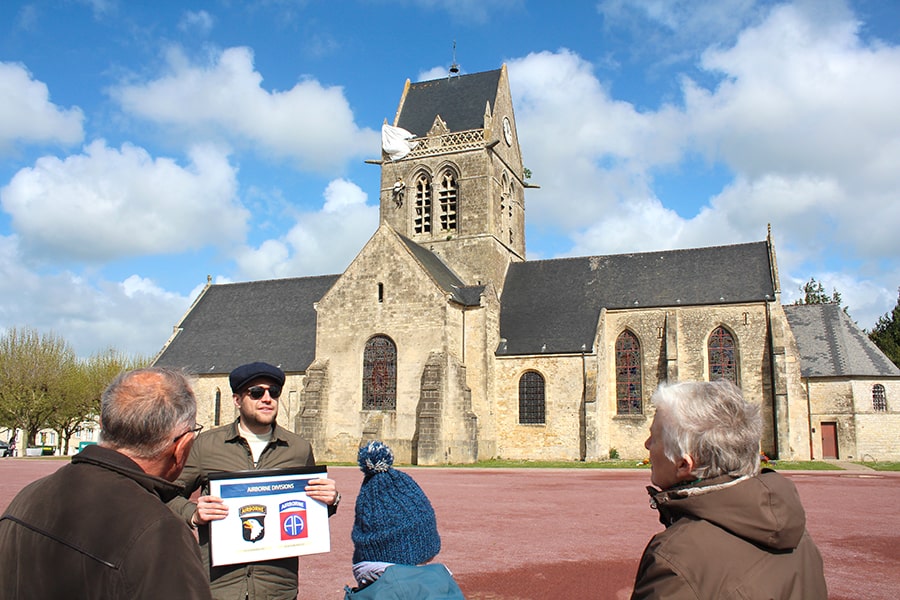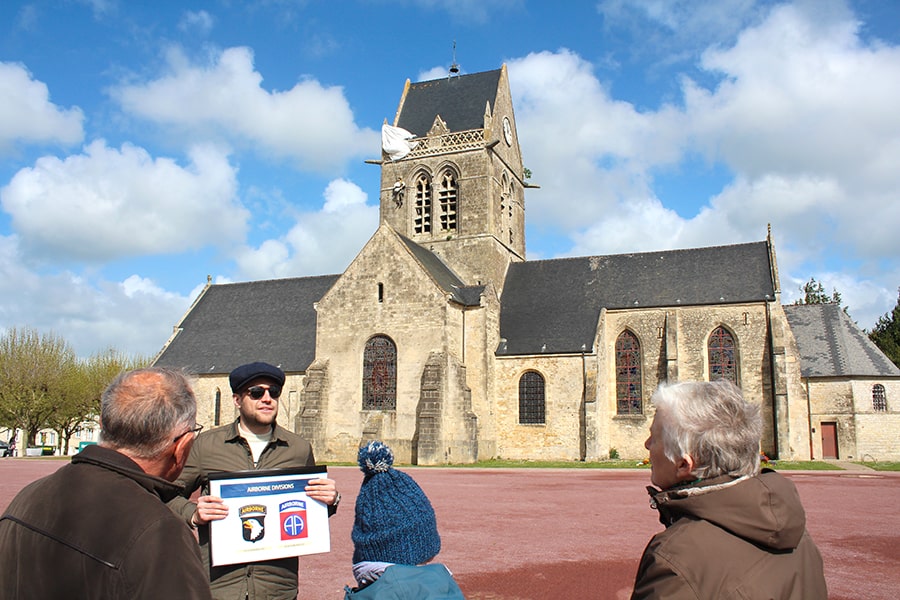 Gourmets and gourmets will enjoy visiting the biscuiterie of Sainte-Mère-Eglise. You will taste cookies based on fresh butter, without colouring or preservatives. Different types of cookies are made, shortbread, chocolate cookies, meringues… Of course, the specialty of this biscuit is pure butter shortbread… in the shape of a parachute!
Other tourist places are close to our campsite such as Carentan, Barneville-Carteret and Saint-Vaast-la-Hougue
Enjoy our seaside campsite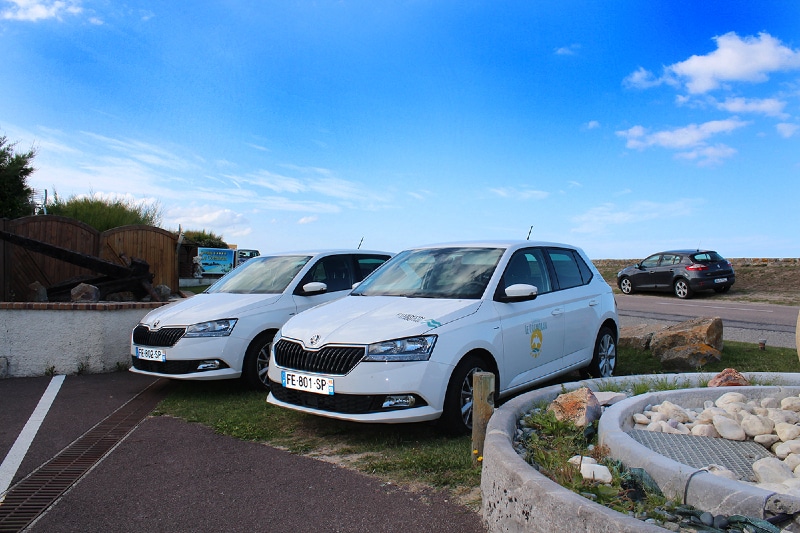 Stay at our 5-star campsite by the sea to discover Sainte-Mère-Eglise, enjoying a comfortable, equipped campsite just a few steps from a sandy beach.
The campsite is located in Ravenoville, just a few kilometres from Sainte-Mère-Eglise, so you can easily discover Sainte-Mère-Eglise during your stay with us. We propose car and bicycle rental that will allow you very easily to reach the city to make your visits.
The campsite is designed to please families with or without children. It is equipped with a heated indoor pool, a heated outdoor pool, a bar, a pizzeria, a children's playground and many other things! We advise you to browse our website to learn more about the activities and animations offered by the campsite.
Whether you are in a mobile home, a tent or even a caravan, with or without animals you are welcome in our campsite. We make sure that every rental and location has enough space for everyone to fully enjoy their vacation without being on top of each other. Our teams will be happy to welcome you to make your stay the best possible so do not wait any longer and discover now our different vacation rentals available by night or week on our website.