Spend your camping holidays in a high-end rental in Normandy
A luxury seaside accommodation
Our range of Elite mobile homes invites you to a luxurious stay by the sea! The most spacious rental of the campsite, our model with 3 bedrooms offers you a high level of comfort thanks to its very pleasant living room, its fully-equipped kitchen with an oven, a dishwasher and a Nespresso coffee machine. Upon your arrival you benefit from a privileged welcome as the beds are already made! Many more VIP services go with this rental.
Our 3-bedroom Elite mobile homes have 3 distinctly different interior styles : traditional, cocooning and pop scandinave. Scroll through all the images to discover those 3 different spirits.
A mobile home of prestige near Cherbourg in Manche
Take full advantage of your holidays thanks to our Elite mobile home, the most beautiful accommodation of our 5-star campsite in Normandy. Its surface from 35 to 40m² offers you spacious and well separated living spaces : a kitchen with oven, dishwasher and a big freezing compartment, a dining room area with table and chairs as well as a living room where you can rest on the big corner sofa. Everything to make you live a stay of relaxation close to Lower-Normandy beaches, comfortably settled in our high-end mobile home.
It can accommodate up to 6 people thanks to its 3 bedrooms. Closets with sliding doors are at your disposal for your clothes. Two sun loungers are waiting for you on the terrace, near the garden furniture where you can enjoy grilled dishes prepared with the private barbecue.
Bedrooms (Blankets and pillows included)
1 bedroom with 1 double bed of 140 cm
1 bedroom with 2 single beds of 90 cm
1 bedroom with 2 single beds of 90 cm

Fully-equipped kitchen
Gas cooktop, oven, refrigerator freezer, crockery, microwave, Nespresso coffee machine, dishwasher

Dining area (table, chairs, sofa)

Lounge area with TV and corner sofa

Bathroom with shower and washbasin
Garden furnitures with umbrella

1 vehicle allowed on the pitch

Non-smoking rental

Duvets, pillows, covers and sheets are included in the price. Remember to take your bath towels, or book them as an extra service at the time of your reservation.

VIP Services in the Elite mobile home
By staying in our range of Elite mobile home, enjoy many additional services :
Sheets included and installed : our team takes care to make beds ready for your arrival

Dishwasher, oven, Nespresso coffee machine

1 private barbecue (individual charcoal barbecue to share a nice outdoor meal with the whole family)
Beach, swimming pool and playgrounds, an ideal environment for relaxing holidays in family !
Situated at 20 meters from the sandy beach, let yourself be rocked by the rhythm of waves. Walks, bathing, games or simple moment of peace admiring Ravenoville sea await you, in the center of an inlet, between the nice fishing port of Saint Vaast la Hougue and La Pointe du Hoc.
On site, you will find many equipment to relax and enjoy your time in family. In breaststroke, crawl or on the back, bathe in the heated water of our indoor swimming pool. Our bubble bath will help you release the last remaining tensions while the youngest will have fun in the water games of the paddling pool.
A beautician and a hairdresser are available by appointment in our wellness area specially fitted out for a moment of relaxation. Facial care, body care, hair removal or manicures, choose beauty and well-being for your holidays.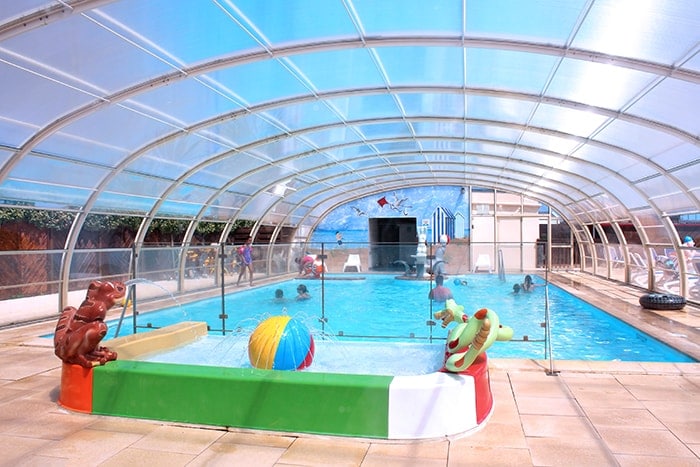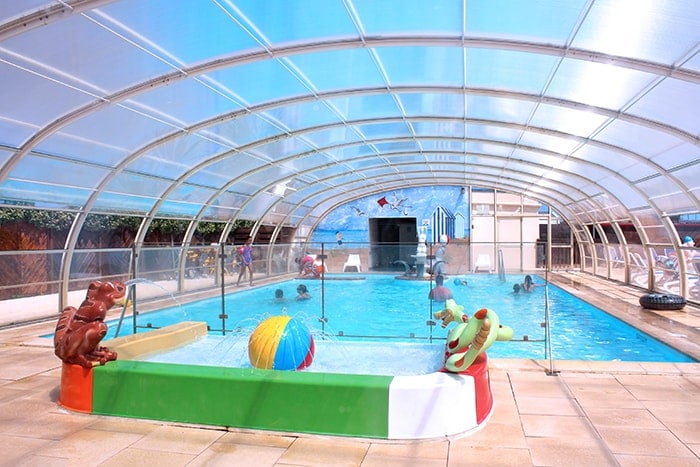 Book sauna session for a relaxing moment with your lover. Created in Finland, the dry heat of the sauna will beautify your skin but not only. It brings lots of benefits: liberation of endorphins creators of relaxation, elimination of toxin accumulated by your body, relief of muscle pains and the aches, improvement of your immune system…
Our campsite is a real paradise for children : playgrounds, multisport ground, go kart with pedals, game room, kids club and horseriding in high season… They will not be bored !
In July and August, new activities are suggested for all the family : shows, concerts, karaoke, kayak and stand-up paddle initiations, Zumba, Fitness… Discover the complete program concocted by our team in the "Entertainment" page.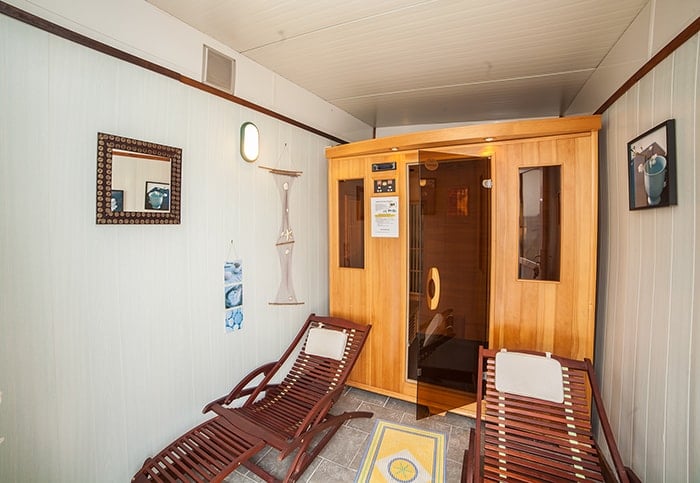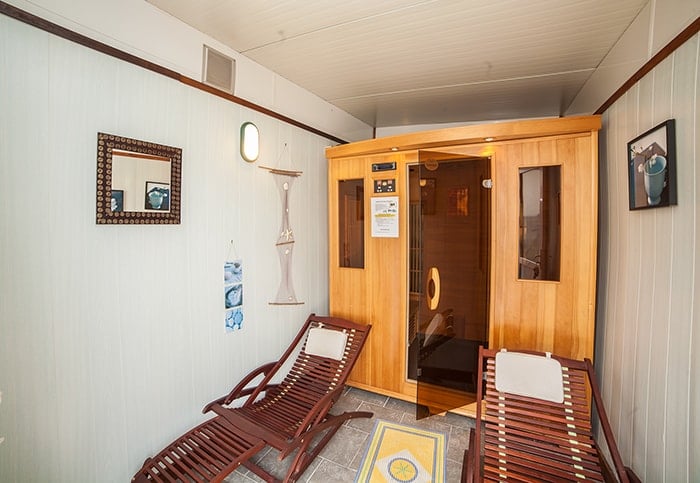 Book your ultra comfort stay in Elite mobile home in Cotentin
If you are seduced by the concept of our Elite rental, check availabilities for your holiday on the Norman coast.
In low season, you can book an Elite mobile home from 2 nights minimum. The day of arrival is free.
In high season, the reservation is a week minimum and the day of arrival is Saturday.
Strolls and activities in Cotentin: a land of nature to discover from your campsite
The department of La Manche in Normandy has plenty of natural places to discover in family or between friends. Situated at the heart of the Marchlands Regional park, our campsite offers you many possibilities for your outings: walks, bicycle, horseback…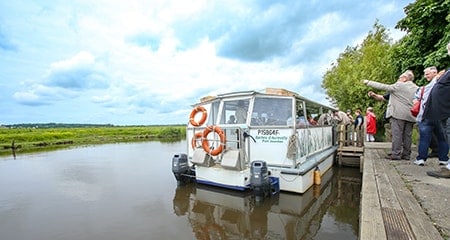 River stroll on the Douve or the Taute
To amaze you, go for a river stroll on the Douve or on the Taute, two of the rivers crossing the park. A covered boat navigates peacefully while a comment on the construction and the history of places is told to you. You will observe rich array of wildlife in this protected nature.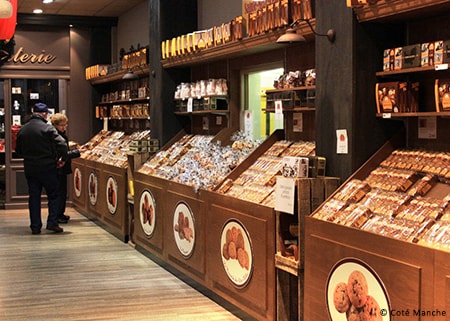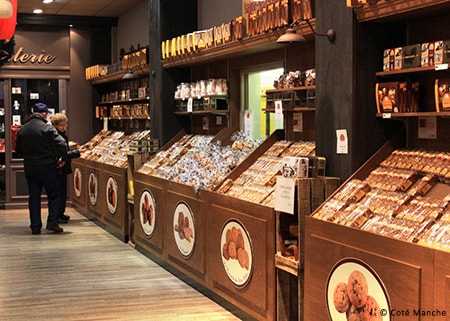 Sainte-Mère-Eglise
At 9 km form the campsite, visit the charming city of Sainte Mère Eglise. Famous worldwide for its American parachutist hooked on the bell tower of the church during the D-Day, it also houses the Cotentin Farm-museum where you will discover the daily life of farmers in this manor farm of the 19th century. Then make a detour at Sainte-Mère-Eglise's biscuits factory to taste delicacies of the region (Sand Roses, fruit jellies, shortbread biscuits, financier and other good butter biscuits of Normandy).
Another Cotentin biscuits factory, the « Maison du Biscuit » in Sortosville-en-Beaumont near Saint-Maurice en Cotentin welcomes you in a small French village of the 1900s atmosphere. The opportunity to enjoy their original works and other Norman products.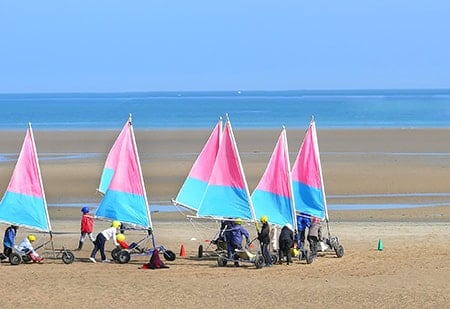 Utah Beach and its surroundings
7 km away from the campsite, Utah Beach is a place with multiple themes where each one will find an interest. Explore the History of June 1944 : the allied landing. There are many memorials to see as well as the Museum of the D-Day Landing situated just a step from the sea.
Live sensations on these large sandy beaches doing sand yachting and catamaran ! Take advantage of the place to taste the delicious oyster of Utah Beach, famous for its flavour of hazelnut and its Bouchot mussels, raised on pickets at sea. If the sea is low, you will have the pleasure to observe horses trotters training on these large stretches of sand. The beach is a real fitness center for these international cracks !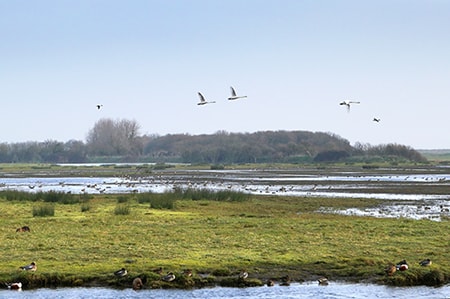 Beauguillot's Nature Reserve
A few steps after the historic site, discover the nature reserve of Beauguillot : a real protected space welcomes thousands of birds migrating or staying for the winter. Follow a 1 km path along which you will find three observatories to contemplate the animals and plants of this magic place.
Le Mont-Saint-Michel
To perfect your knowledge of the region, go in the South of the department to discover the Mont Saint-Michel. A must-see during your holidays in Lower-Normandy! Plan the day to visit its abbey, taste the Mere Poulard galette and stroll through the shops. For a natural adventure, participate in one of the guided tours in the Mont St-Michel bay and you will learn its history, fauna and flora and quicksands.
From about twenty minutes from the campsite, visit the medieval city of Carentan. Follow the circuit 'The treasures of Carentan' to discover the cultural wealth of the city: church of the XIth century, medieval arches, paintings of the XVIIth and XVIIIth century…
The Val de Saire, region of the northeast of the Cotentin peninsula, is known for its small typical coastal villages and its green and flowery landscapes. Go hiking along the GR 223 to admire these magnificent landscapes of the coast. Near Val de Saire, go for a stroll in Cherbourg en Cotentin to discover the « Cité de la Mer » museum, about the discovery of oceans or the famous factory of the Umbrellas of Cherbourg.
You might also be interested in: