The mobile home Nature, a rental with an authentic spirit for your camping vacation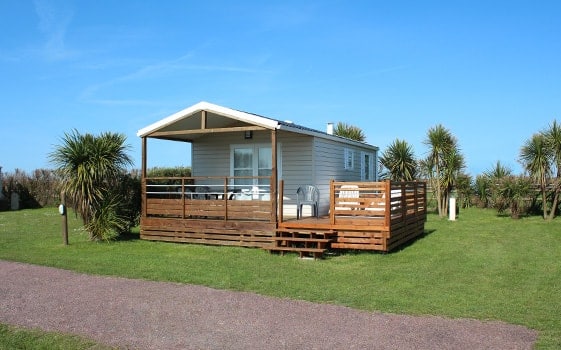 Take a deep breath of sea air in Normandy !
A peaceful and pure interior design to spend a quiet stay and reconnect with nature. Situated in front of our mini-farm, this Nordic style rental will please the whole family. The large bay window offers a great view over the pygmy goat park and the semi-covered terrace let you enjoy outdoor activities by any weather.
A mobile home with a bright living area
A return to the roots but in a modern and comfortable lodging. You will be able to cook fine food thanks to the equipped kitchen and enjoy meals sitting around a table with family or friends. Its spacious living room is full of light thanks to the clear view.
Bedrooms (Quilts and pillows included)
Master bedroom with 1 double bed
Kid's bedroom with 2 single beds

Kitchenette
Crockery, fridge, gas hobs, coffee maker and microwave

Dining area with satellite/flat screen television

Bathroom with shower
A set of garden furniture with parasol

2 sun loungers

1 clothes dryer
1 vehicle can be parked on the pitch

Animals
No animals allowed in this accomodation

Non smoker rental

Sheets and towels not provided (possibility to rent it during your booking)
5 star services for a quiet stay close to the Normandy beaches
Feel like relaxing after a long journey? Leave your suitcases and go for a refreshing break at the bar with one of our cocktails or one of our delicious ice-cream. Then put your swimsuit and bask around our heated swimming-pools ! Going out, don't forget to make some food shopping in our grocery and you are now ready to spend unforgettable holidays!
Between seaside and Norman countryside, the campsite Le Cormoran welcome you in a green environment inviting you to relax. You are 20 meters away from the beach: swimming, beach volley playing, shell fishing at low tide, standing paddle, kayak and sea walking initiation in high season, … many choices to take full advantage of your stay along the sea.
Le Cormoran is one of the Normandy campsite with the "Qualité Tourisme" label, which guarantees you a high-quality greeting and a careful listening to your needs.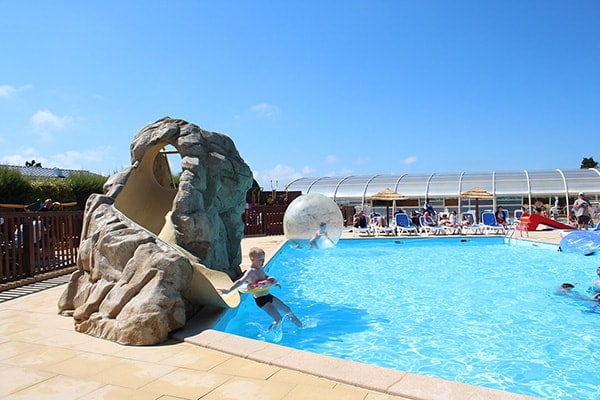 Book your stay for the mobile home Nature in our campsite in Normandy
Don't wait any longer ! Check now our availabilities and book online via our secured payment system.
In low season, you can book this accommodation from minimum 2 nights. The day of arrival is free.
In high season, the booking is for minimum 1 week and the arrival day is Saturday.
So much to see and do during your holidays in Lower-Normandy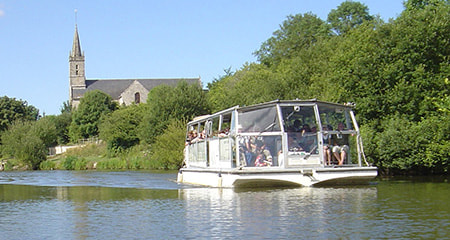 Commented river ride on the Douve
Nature lovers, come aboard the Barbey d'Aurevilly II, close to Carentan, for a guided boat trip on" La Douve" river. In the heart of the park of Cotentin marshlands, explore the fauna and flora of the Norman bocage and stop in typical villages that first witnessed June 1944 airdrops. Open your eyes and you will maybe sight a kingfisher or grey heron amid reed beds and pastures. Let yourself be carried in a run of the river for a half-day or a full day to finally come back to terra firma well-rested.
For a boat excursion, embark from the yacht harbor of Cherbourg-en-Cotentin aboard Adèle to discover the history of the world's largest artificial harbour.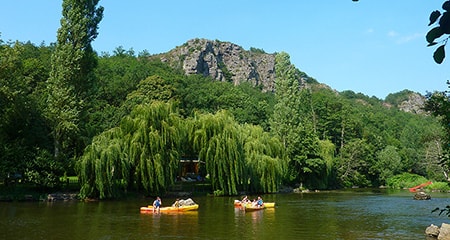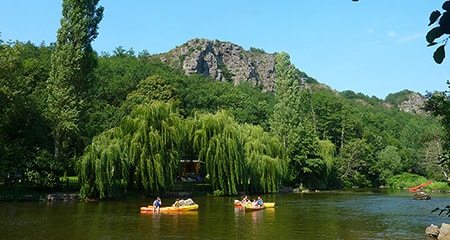 Discovering beautiful natural landscapes
The department of La Manche is a great source of amazing natural sceneries. Between the sandy beaches, typical green countryside and Marshlands, you will come back with a bohemian spirit. Close to our establishment, the Bellenau castle in Saint Come du Mont invites you to explore his wonderful garden with oak tree, sequoia and Ginkgo, a pond and a little chapel. A relaxing site!
What about a little adventure in "Norman Switzerland"? Climbing, Kayaking, hiking, fishing… this mountainous landscaped region offers many ways to enjoy nature.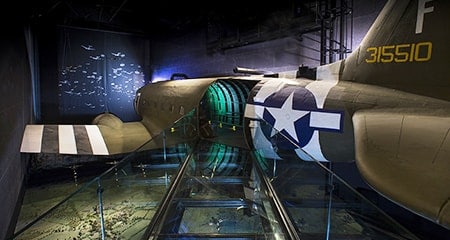 D-Day and landing beach
Go along the landing beaches, close to the campsite, and learn more about D-Day. Visit many museums around Utah Beach, such as the Airborne Museum in Sainte Mere Eglise and D-Day Experience in Saint Come du Mont. A little bit further, on Omaha Beach, Overlord Museum offers you a full size realistic display made up of original equipment and vehicles explaining different Landing stages.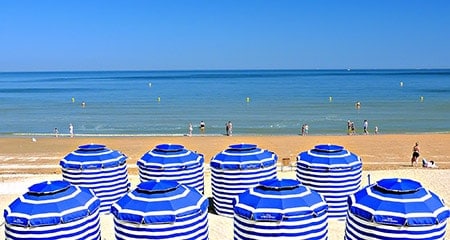 Coastal towns
Along Calvados coast, let yourself be amazed by traditional architecture in seaside towns like Colleville, Port en Bessin, Ouistreham, Merville Franceville, Cabourg, Deauville and Honfleur. In the 18th Century, the first holiday homes of Parisian wealthy bourgeoisie were built in these towns situated a few hours away from Paris. They testify of the luxury at that time in France.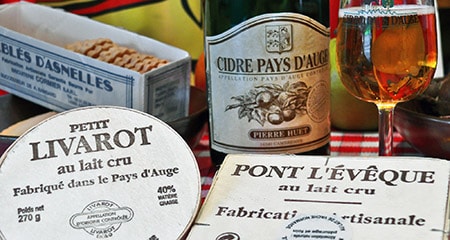 Culinary territory traditionally rich
Normandy is also a territory with a rich culinary tradition. Taste specialties like andouillette de Vire or delight your senses with beverages from cider makers or Bayeux distillery. Take time to go to the south of Lisieux in "Pays d'Auge" and visit Norman cheese fabrication shop: Livarot, Camembert and Pont-l'Eveque.
Don't forget to go and have a look at our tourist information point next to the reception! You will find many must-see sites for your stay in Lower Normandie. We will be delighted to give you extra information at the reception if you need.
You might also be interested in: